https://www.ussh.vnu.edu.vn/en/news/activities/dao-minh-quang-foundation-always-accompanies-ussh-s-students-20614.html
Attending the ceremony were Prof. Dr. Hoang Anh Tuan (Rector of USSH) Dr. Dao Minh Quang (Chairman of Dao Minh Quang Foundation), Mr. Nguyen Manh Thang (Assistant Chairman of Dao Minh Quang Foundation in Hanoi) and representatives of the Office for Student Affairs.

Based on USSH's academic and training results of the 2020-2021 academic year, the Dao Minh Quang Foundation granted scholarships to 22 students with excellent academic performance, 10 students who were important members of their classes or members of the Youth Union and Students' Association with distinguished or excellent academic results, 5 underprivileged students with distinguished/excellent academic results of the regular classes QH-2017-X, QH-2018-X, and QH-2019-X, for the 2019 - 2020 academic year, each worth 5 million VNDs.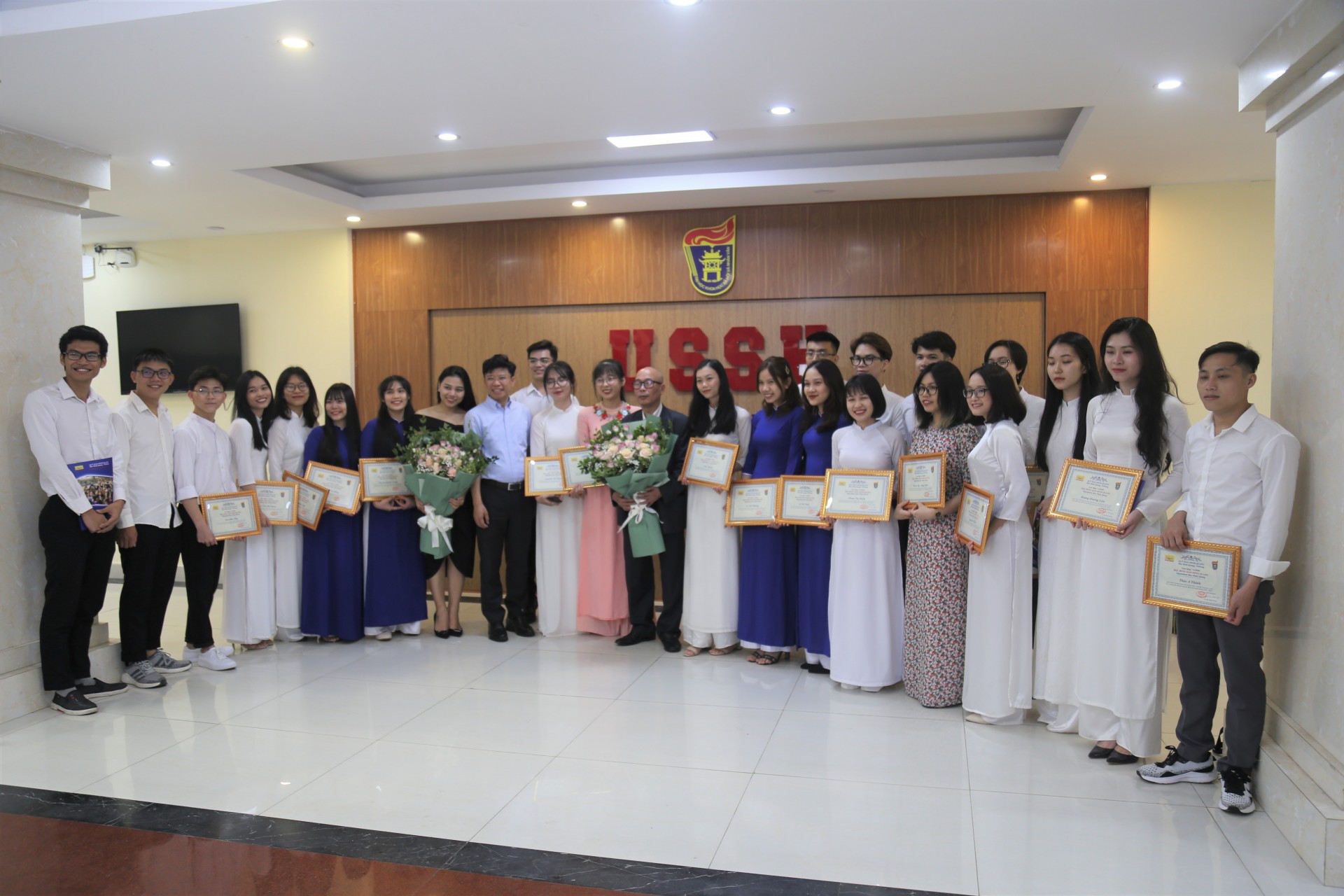 At the ceremony, Prof. Dr. Hoang Anh Tuan said that Dao Minh Quang Foundation has become a familiar name to USSH's students and contributed greatly to the University's scholarship funding. Under the negative impact of the Covid-19 epidemic, the Foundation's support became even more meaningful. In addition, USSH's staff and students gained a lot from the knowledge and experiences of Dr. Dao Minh Quang. Prof. Dr. Hoang Anh Tuan thanked Dr. Dao Minh Quang and hoped the Foundation would continue to accompany the University in its cause of educational development.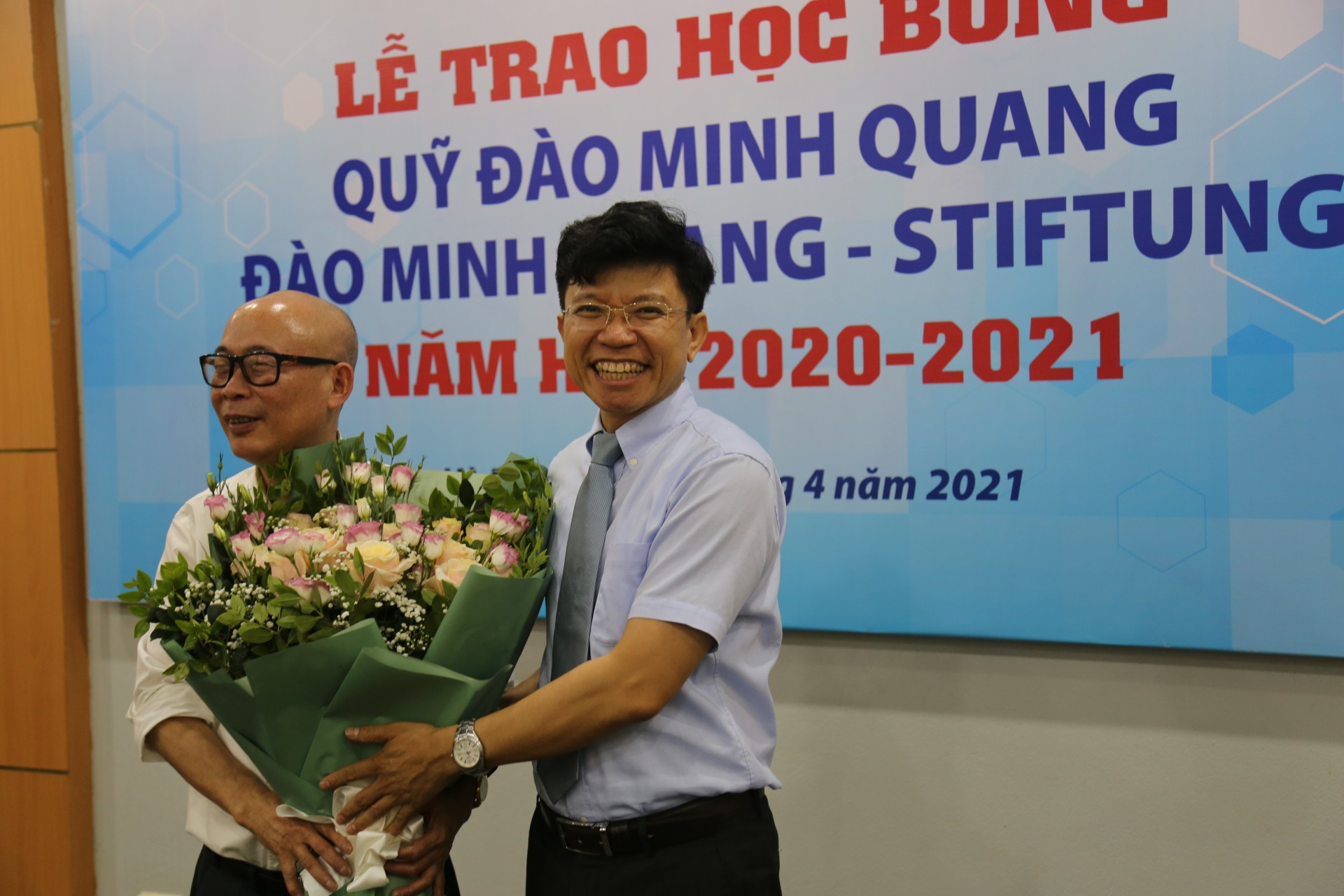 Prof.Dr Hoang Anh Tuan gives a bouquet of flowers to Dr. Dao Minh Quang

Dr. Dao Minh Quang shared about the mission of the Dao Minh Quang Foundation in promoting educational development in his homeland. The Foundation's sponsorship and consulting activities are aimed at encouraging the study and teaching spirit of students and lecturers of USSH. He hoped the scholarship would help students cultivate the spirit of learning, overcome difficulties and become better learners and human beings. In addition to awarding scholarships, Dr. Dao Minh Quang will do his best to visit the University and share experiences with its students.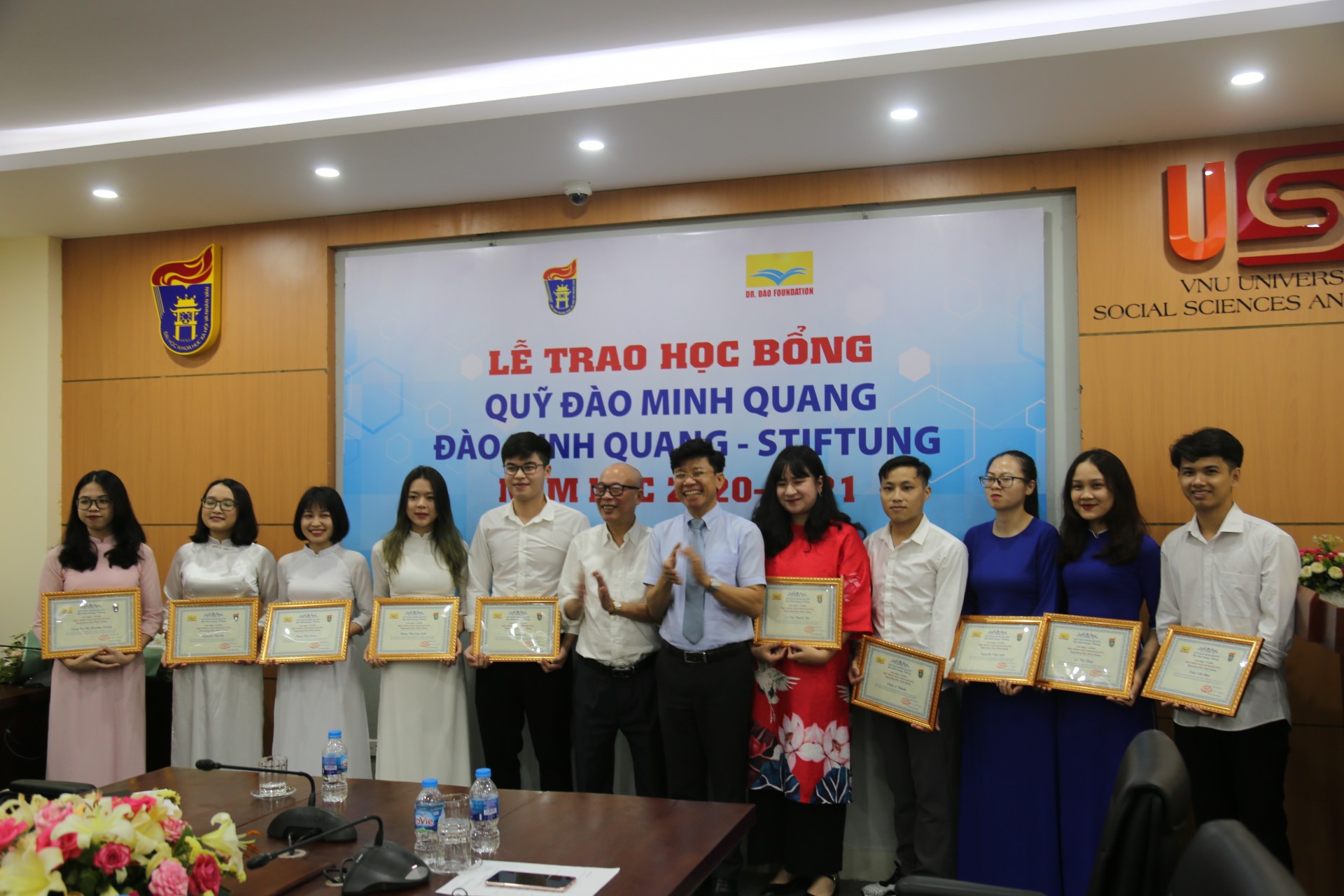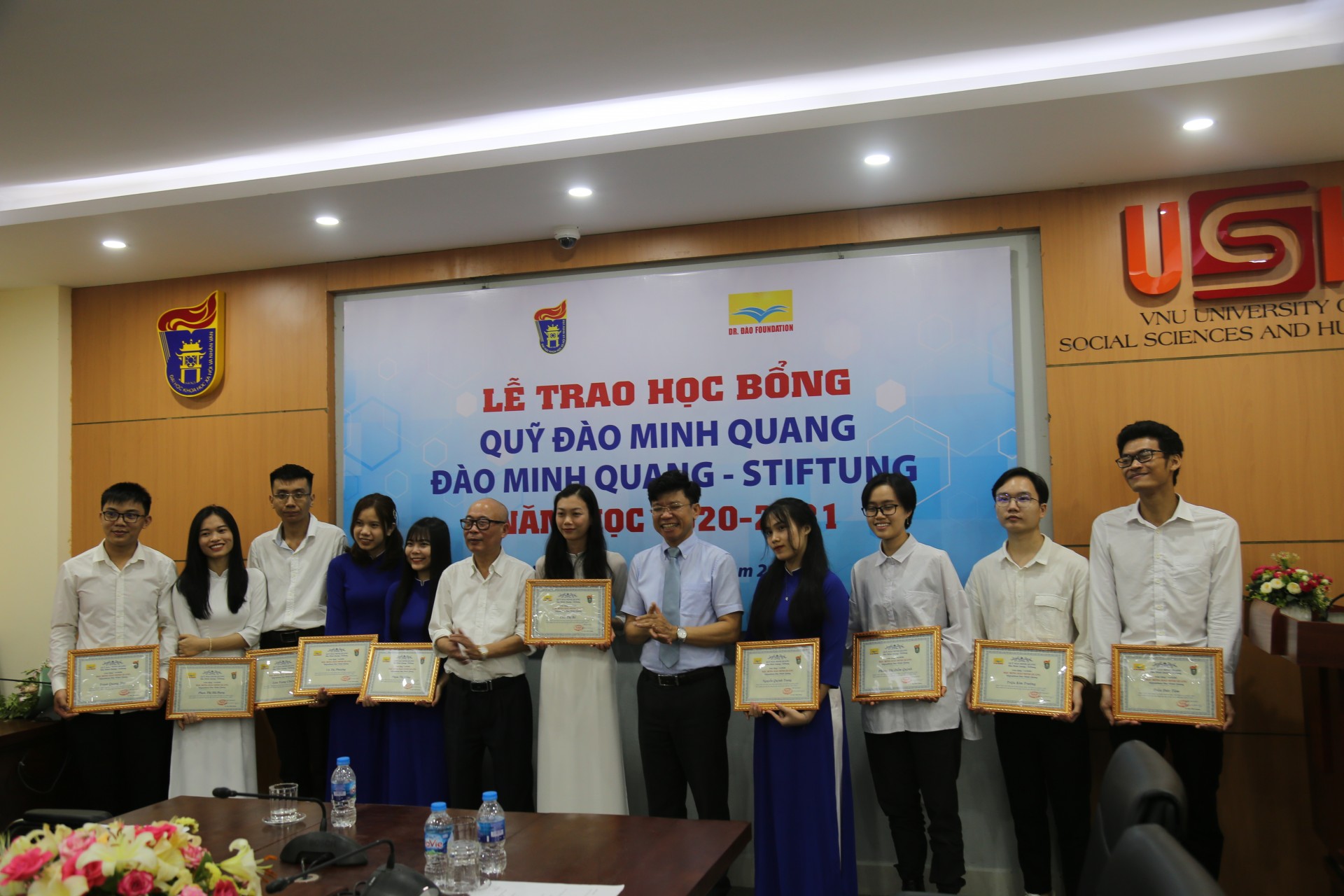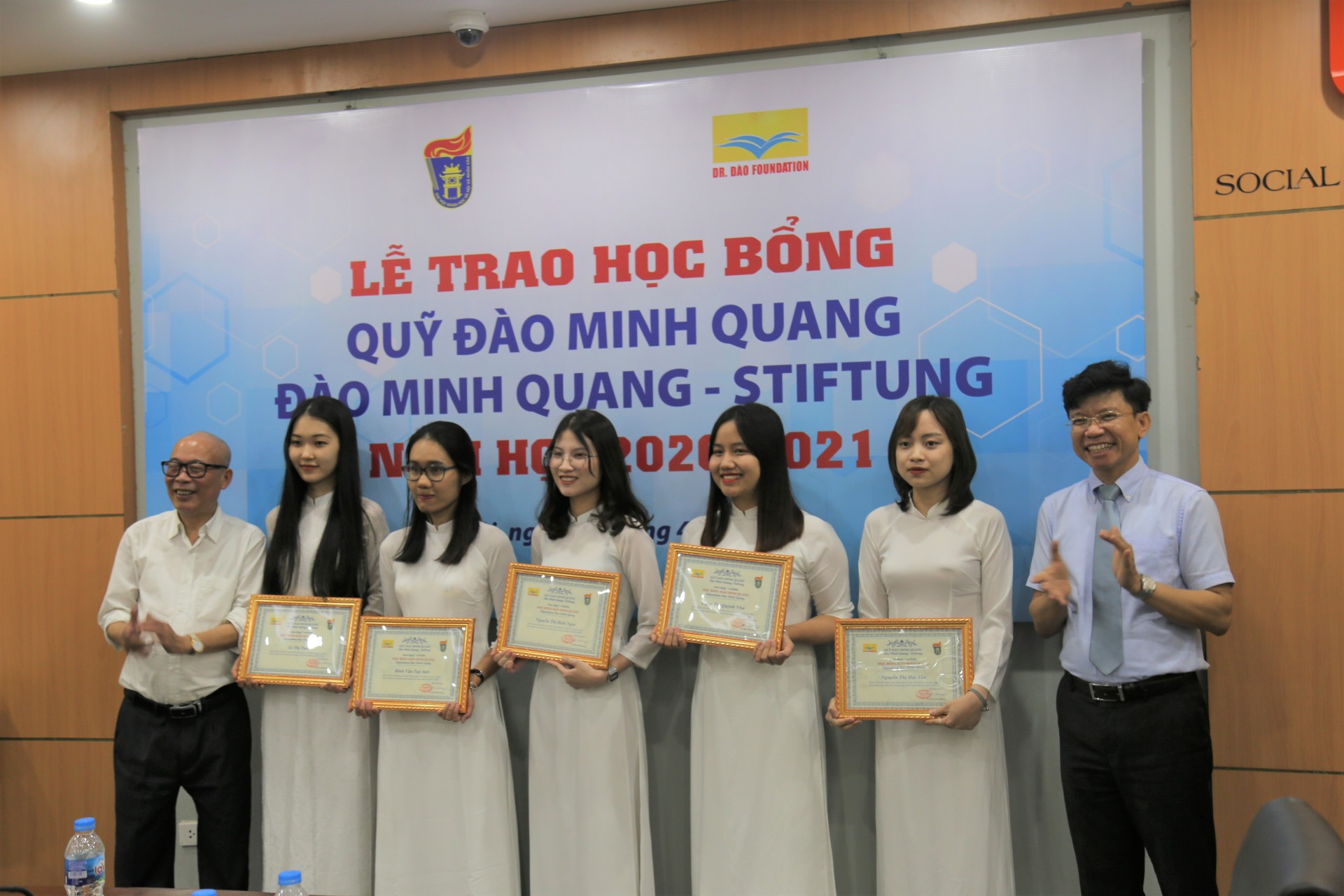 Granting scholarship certificates to the students

Dao Minh Quang Foundation was established under the German Civil Code, granted independent legal capacity and aimed at public and charitable purposes. The Foundation encourages the development of cooperation between Germany and Vietnam, especially in the fields of education, sustainable agricultural development, music and culture.